Energy and Sustainability at ADHS
Our STEM Academy at Athens Drive High School focuses on Energy and Sustainability as our theme; however, students in the STEM Academy will benefit from taking rigorous courses and from exploring the content in their classes through the lens of the Engineering Process. Students who have a strong interest in Math, Science, and Technology should consider joining the STEM Academy with a focus on Energy and Sustainability.

By definition sustainable energy is the provision of energy such that it meets the needs of the present without compromising the ability of future generations to meet their needs. That means that sustainable energy is energy which is replenishable within a human lifetime and causes no long-term damage to the environment. From this definition it is clear that all

renewable

energy sources are sustainable because base energy providers for renewable energy sources are very stable and human activity can not influence those energy providers in some larger scale. For example, nuclear fusion on Sun will

continue

for a very long time (biofuels, solar power, wind power, wave power …), the Moon will also circle around the Earth for next couple of billions of years (tidal power), and Earth will not cool down very soon (geothermal power). Nuclear energy can be also considered as sustainable energy source because after nuclear fission era we will probably enter nuclear fusion era. Nuclear fusion is much cleaner energy source than fission and amount of fuel for fusion is practically unlimited – hydrogen and hydrogen isotopes. (information from

http://interestingenergyfacts.blogspot.com/2009/01/sustainable-energy-and-sustainable.html

):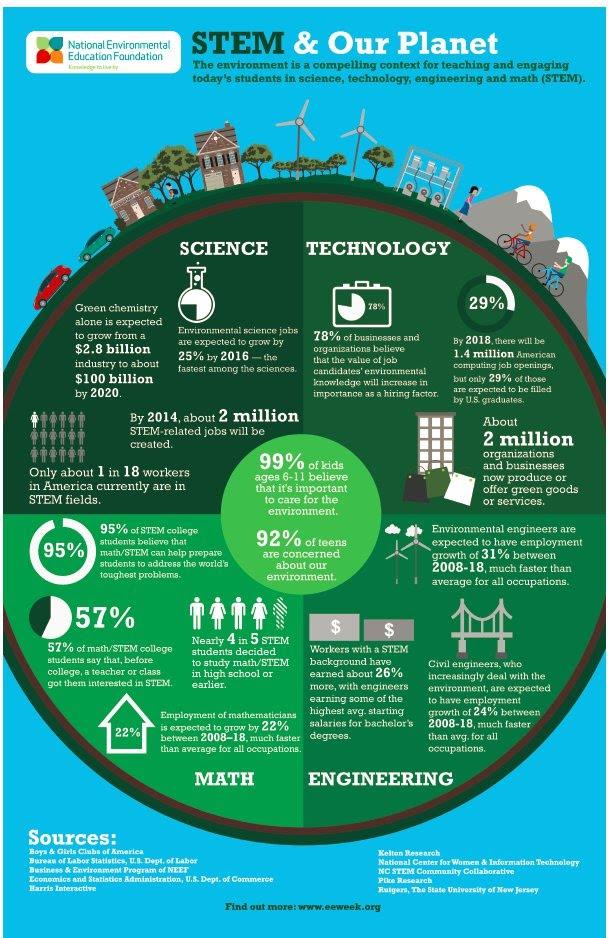 Energy and sustainability may be trendy and buzz-worthy, but they're also growth industries for North Carolina. For one thing, electric utilities are encountering pressure to seek alternative sources to fossil fuel and improve traditional power-generation methods. Competitors in the alternate energy field are marketing their innovations and building infrastructure, and both consumers and businesses need ways to be more energy efficient. For these and other reasons, the employment outlook will continue to be strong.

See Videos

Consider that:

The clean energy economy grew by 9.1 percent between 1998 and 2007, compared to growth of just 3.7 percent in traditional jobs. Occupations in clean energy and sustainability will grow by 52 percent between 2000 and 2016 compared with careers in other industries, which are expected to see a workforce increase of 14 percent.
North Carolina ranks 11th in the country in the biofuels energy development, producing more than 2 billion kilowatt hours per year from landfill gas, biomass and wood combined.
Energy utilities are often among the largest employers in their communities and have a positive impact on local and state economies. More than 100 separately organized electric utilities serve North Carolina, including consumer-owned cooperatives, investor-owned utilities, and city governments.
Natural gas companies have created (directly and indirectly) approximately 73,000 jobs in North Carolina, and have an economic impact of approximately $4.9 billion.
In addition to having a rich network of research universities with specialties in engineering, geology, hydrology, natural resources, forestry, agriculture and other energy and sustainability related fields, North Carolina has both a business-friendly reputation and a legacy of progressive policies related to environmental protection.

Consider also that:

North Carolina is poised to have the largest electric utility in the country with the pending merger of Duke Power and Progress Energy, which has the potential to attract more business partners to the state, stimulate economic activity and create jobs.
Durham, NC, is home to light bulb innovator Cree, which launched the first blue LED light in 1988.
The city of Charlotte recently announced "Envision," a $5.3 million public-private partnership aimed at cutting energy use in the city's downtown by 20 percent in five years.
North Carolina boasts the nation's only agency working comprehensively over time for all aspects of biofuels development. The North Carolina Biofuels Center is a private non-profit developing a large-scale, statewide biofuels industry sector to provide alternatives to imported petroleum fuels. The Center assists in the science, growing, production and logistics of biofuels.
In 2007, North Carolina became the first Southeastern state to adopt the Renewable Energy and Energy Efficiency Portfolio which requires all investor-owned utilities to meet a minimum of 12.5 percent of their energy requirements through renewable energy sources or measures of energy efficiency.

A win-win for students and employers

Companies in the energy and sustainability sectors need workers with strong STEM backgrounds. Whiles a few jobs might still be available for students with just a high school degree, almost all of the best-paying positions require at least technical training, a two-year degree, or a four-year degree or higher. All require proficiency in the language of science and technology and, often, a desire to work outside. North Carolina students with an interest in energy and sustainability are likely to find the training and education opportunities for these fields at a state community college or four-year university.