OCE Garden Club
Hello OCE Families,
We are in the process of starting up a garden program at our school and we are looking to make connections with OCE families and build partnerships with community organizations to help grow and sustain this garden. We hope you will consider joining the Garden Club and/or helping us out with some of our garden events – Sign Ups to follow.
Our goal is to create a native and perennial garden that, once established, will be included in the class room curriculum to provide hands-on learning and collaborative opportunities for students and teachers. In the future, we would like to be able to offer the Garden Club as a regular after school activity for interested students and families. To move forward with the growth of this garden, we are asking for your assistance with some of the major tasks below (see key dates in red):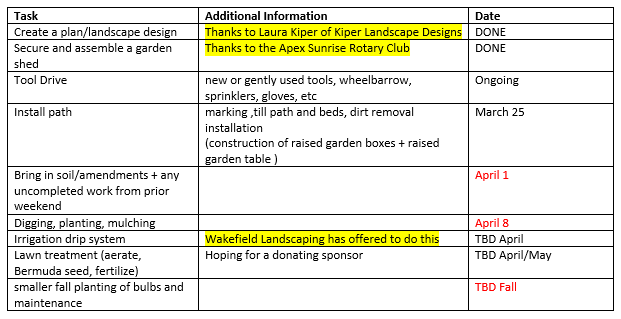 **Please sign-up for upcoming Garden Events here: Garden Event Sign-up
**Please help support our Garden by purchasing a plant here: Plant Drive
There will be many smaller tasks along the way to be competed in order to move forward with each major task above. Any help in the way of your, "time and talent", busy work, heavy work, supplies, or financial assistance would be greatly appreciated.
The garden will be located in the outside breezeway closest to the front office. If you get a chance, we invite you to come see the changes that will be coming soon…
Thank you and we hope to see you out in the garden,
OCE Garden Club Committee
For more information please contact one of the following:
Mary Connell connell_mary@hotmail.com
Andrea Perrone aperrone@wcpss.net
Carolin Roberts croberts@wcpss.net