Teacher Appreciation Week Starts May 1st!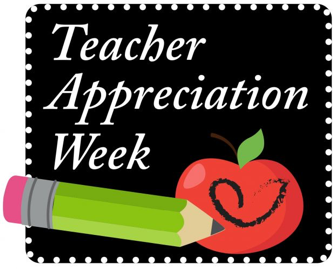 Teacher Appreciation Week is around the corner. The LRMS PTA collaborated with Ms. Sinders on a plan to show our appreciation to the teachers & staff, and we hope that you'll support it as well
May 1: PTA Sponsored Breakfast (Bagels/Muffins/Coffee)
May 2: PTA Sponsored Fruit & Healthy Snacks Day
May 3: Student Day: Students are encouraged to bring something for each of their teachers (don't forget your electives teachers!)
May 4: NJHS Sponsored Teacher Breakfast
May 5: PTA Sponsored Massage Chair Sessions for Teachers & Staff
May 11: PTA Sponsored Staff Luncheon (for teachers in all Tracks)
If you are interested in contributing to or supporting the PTA Sponsored activities, here are the Sign-Ups: May 1st: Sign Up; May 2nd: Sign Up
---
LRMS PTA

The PTA is the largest volunteer organization that works exclusively to improve the education, health, safety and well being of all children. We all know that our students learn more and have better lives when parents, school faculty, students, and the community work together.
PTA brings all these groups together to share thoughts and ideas about programs and activities that benefit our students, our children.
---
Join the LRMS PTSA for 2016-2017!

It is time to join the PTA for 2016 - 2017. A family membership to the PTA is
$10.00
(family membership = 2 memberships); individual memberships are
$7.00
. Fill out a
PTA Membership Form
today.
---
Box Tops For Education

Send in your box tops!
Please fill up these Lufkin Box Tops sheets with Box Tops and send them in with your child's name, grade, and track information on it. Students can turn in their sheets either to their homeroom teacher or to the front bin in the lobby (looks like a Campbell's Soup can). If every student brought in just 1 sheet, it would be over $2000 for our school! Please make sure your Box Tops are not expired.

ON GOING FUNDRAISING