Arts Integration
IBMA Artists Donna Ulisse and Rick Stanley visit EMMM
Wednesday, September 28, 2016, Guild Orchestra students were able to experience a songwriting workshop led by internationally renowned Bluegrass Artists, Donna Ulisse and Rick Stanley. This dynamic team introduced students to Bluegrass Music and took the students on a songwriting exploration. Guild musicians examined lines of poetry and translated those lines into song lyrics. Learning how to utilize syllable counts and rhyme schemes to create their own lyrics left students feeling like maybe they too could breathe musical life into their words. Thank you to the United Arts, the International Bluegrass Association and the Wake County Board of Commissioners for making this experience available to our students.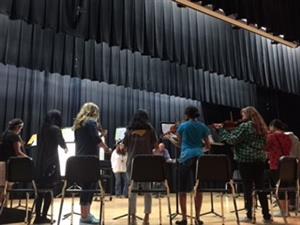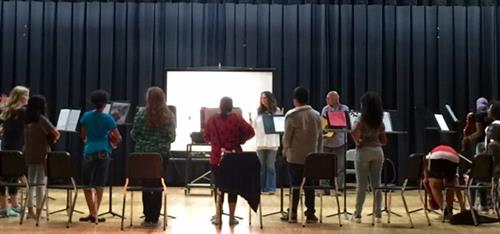 Sphinx Virtuosi Set To Visit EMMM in October
Math & Art- Piecing It Together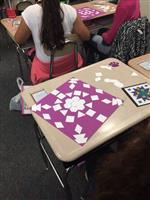 Sixth grade math students create a project blending art and their study of decimals. Students were introduced to the origins of quilting. After discussing Tar Beach by famous visual artist and quilter, Faith Ringgold, students were asked to use geometric pattern blocks to create a quilt square. After exploring how to rotate, flip and overlap their geometric pattern blocks, students discovered how to create their own original designs that were placed onto a quilt square. Using a table, students counted how many of each pattern block was used in the design, multiplied the number of pattern blocks used against the cost of each pattern block, and then determined the total cost of their quilt square. Sixth grade Lion and Panther teams will be piecing together selected quilt squares to build team math quilts in the sixth grade building.