Teachers are Students Too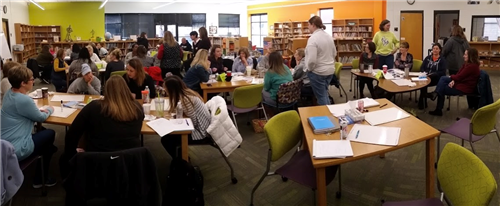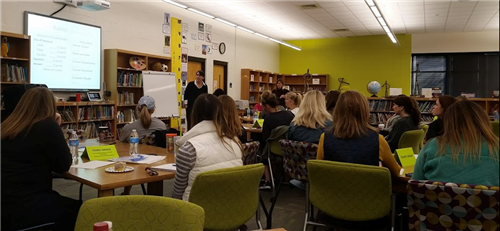 To look at these pictures, one might think that this is just another standard day at Leesville... perhaps a morning meeting for a large number of faculty and staff to get together for some professional collabortation. However, this was no ordinary meeting or workshop.
These pictures were just taken this past Saturday, Febrary 4th, when 45 members of the faculty and staff gave up their entire Saturday morning from 8 to noon, to learn how to more effectively teach our students and build math maticians to promote math reasoning skills. This particular process encourages the use of bar models in order to gather line of information that allow for successful processes in math computation and reasoning, similar to a K-12 continuum of reading comprehension skills.
Our presenter, Dr. Valerie Faulkner, a professor at North Carolina State University, help our attention through engaged instruction and meaningful, relevant learning topics. In fact, throughout the morning, as I looked at the clock, I was surprised to note that 45 minutes passed. 3 minutes later, I look back up at the clock and was shocked that 90 minutes had gone by. Then, looking at the crowd of teachers after 2 hours passed, there was no loss of energy... the group actually appeared more alive and charged.
We were so lucky to have such an incredible opportunity to learn from one of the most accomplished and credible Math Educators in the country, and Leesville is so fortunate to have the type of dedicated educators, who are so committed to outstanding teaching and learning. I am certain that we will see the impact of this meaningful opportunity.