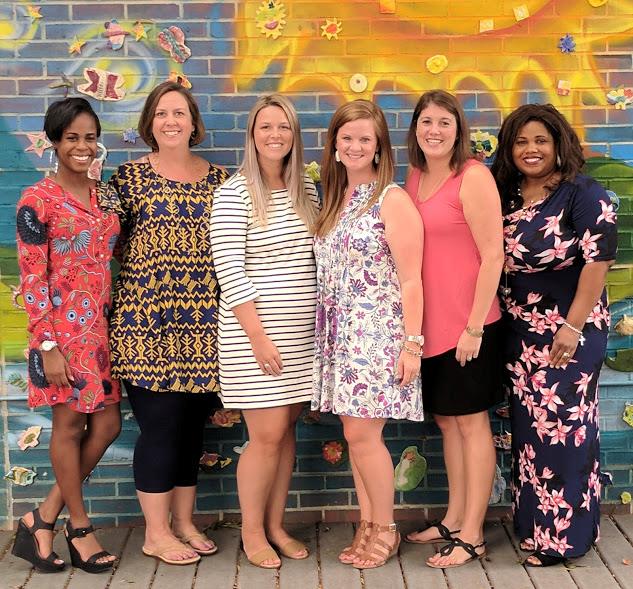 Teacher Bios
Tahira Wiggins

Mrs. Wiggins is excited to start another year at Hunter Elementary. She has been in education for many years. She was born and raised in Savannah, Georgia and attended Shaw University with a degree in elementary education. Mrs. Wiggins especially loves to incorporate music in her lessons. Mrs. Wiggins continuously strives to provide a classroom that is conducive to learning. Providing students with encouraging words is vital to her classroom community. Her classroom is a safe, fun and disciplined place for all whom enter. When she is not at school, Mrs. Wiggins enjoys spending time with her family.

Nyema Heyward

Ms. Heyward is a lover of books, tacos, and her Siberian Husky, Meilo! She is originally from Long Island, NY, but loves the weather and pace of living in North Carolina. She is very excited about being a part of the Hunter family because she will have the opportunity to bring joy, love, and learning to a wonderful group of kids. Ms. Heyward will be teaching Reading and Writing which are two of her favorite subjects. One of her favorite things about teaching would be making connections with students and their families. On the weekends you can find Ms. Heyward hanging out with friends or family, watching a great movie, or walking her dog. She believes that every child can learn, all they need is a little love and support.

Abby Pearce

Mrs. Pearce has been at Hunter for several years. She earned her Elementary Education degree at North Carolina State University. Go Wolfpack! Mrs. Pearce enjoys teaching at Hunter because of all of the learning opportunities students are able to take part in. She has always been a book-worm and enjoys exploring the world through reading. Outside of school, she loves to go to the lake and spends time with family. Every once in awhile you can find her in Charlotte cheering on the Panthers, or in Carter Finley watching the Wolfpack play.

Danielle Greening

Mrs. Greening is a third grade teacher at Hunter. She wanted to be a teacher after her third grade year, when her teacher, Mrs. Robins, made such an impact in her life. Her classroom is one where students are valued and supported as learners. She holds high expectations for all students, while making learning fun. Mrs. Greening was recently married and enjoys spending time with her husband, traveling, and and coloring.

Ashley Bezilla

Ms. Bezilla is very excited to be joining the Hunter family this year! She is a very dedicated teacher who loves math and science. She graduated from the University of South Carolina (Go Gamecocks!) with a degree in Early Childhood Education. She decided to become a teacher because her grandmother was a middle school math teacher and she always wanted to be just like her! Ms. Bezilla is looking forward to the positive attitudes and wide diversity that Hunter brings into their everyday work. On the weekends you can find Ms. Bezilla riding her bike or attending any sports game she can find.

Kristin Hord




Mrs. Hord comes to Hunter from Syracuse, New York. She currently teaches third grade Math, Science & Social Studies. She has been an educator for several years and enjoys learning from her students each year. She has known she would be a teacher since she was in early elementary school. Here at Hunter, she loves the wide range of opportunities offered to students. Her favorite elective is "Blooming Botany" because she loves to help things grow. Outside of school, she enjoys spending time with both her husband and daughter as well as extended family and friends. In her free time, she loves spending days by the lake relaxing with a good book, taking pictures, and gardening.